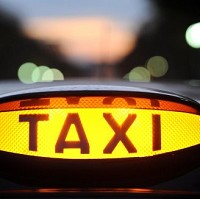 London's taxis are the best in the world, according to a new poll.
The cabs in England's capital city were voted number one in a survey of 1,600 travellers across 28 countries by Hotels.com, finishing some way ahead of taxis in New York and Tokyo in second and third positions.
Taxis in Shanghai and Bangkok made up the remainder of the top five in the poll, which also revealed that 39% of people are quite reserved with their tips to taxi drivers and 15% even admitted they never tip a cabbie.
Around one in five (19%) respondents said they use taxi journeys as a chance to do their hair or make-up, while more than half (56%) revealed they have fallen asleep in a taxi.
The survey revealed that 26% of travellers around the world have kissed on the back seat - but UK travellers are more than twice as likely than the rest to have "become amorous" on their taxi trips.
Commenting on the findings, Hotels.com senior communications director Alison Couper stressed it is the "local knowledge" of London taxi drivers that sets them apart from the rest.
Copyright Press Association 2012