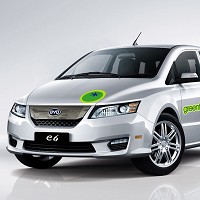 A London minicab company wants to be the capital's first taxi firm to drive an all-electric fleet, following the memorandum of understanding it has signed with Chinese car manufacturer BYD.
Beginning in the spring of 2013, Greentomatocars will receive 50 all-electric BYD e6 models to test out in London in the summer. Boasting ample legroom and luggage capacity, the five-seat crossover car runs on a BYD-manufactured iron phosphate battery that purports to drive up to 186 miles in the city on one charge.
The BYD battery, if it proves its claims, could be a good option for urban taxis as the company says the battery will keep running for more than 4,000 charge and discharge cycles.
"We are very pleased to be working with BYD on this project. As a partner company, BYD has shown great leadership to challenge the status quo, innovate and electrify mass transport - principles which go to the very heart of greentomatocars," said Jonny Goldstone, managing director of greentomatocars.
He added: "As a car, we see strong parallels between the e6 of today and the then-unfashionable Toyota Prius of 2006," he continued.
"It's exciting to think that, even as a 5-car start up, we played a major role in making the Prius popular; given the scale, experience and high-tech infrastructure we now have at our disposal, we'd love to "do a Prius" with the e6, and help propel electric vehicles into the automotive mainstream - where they deserve and, for all our sakes, need to be."
Copyright © Press Association 2012