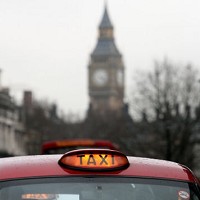 London taxi app Hailo has had its office vandalised after opening up its service to private hire vehicles.
The word "Scabs" was daubed on the wall of the firm's London HQ and police attended to a fight that broke out.
Hailo, which was set up by three London cab drivers, enables people to book a taxi based on their location, track its journey to them and agree how they will pay the fare before entering the vehicle.
Hailo co-founder Ron Zeghibe has published an open letter to London cab drivers on the firm's website in which he says they have applied for a private hire operator's licence in response to demand from passengers and businesses.
He said things are changing, people want choice and Hailo needs to be pragmatic if it is to continue to be successful.
Hailo's decision has prompted a hostile response from some black cab drivers.
Steve McNamara, general secretary of the Licensed Taxi Drivers' Association, said it has provoked "resentment and anger".
Copyright Press Association 2014