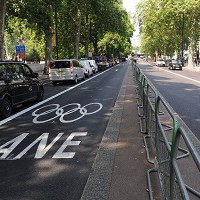 Plans for how London will cope with the "huge challenge" of the Paralympic Games have been outlined by transport bosses.
With the capital set for another influx of visitors, as well as schools returning after the holidays, Transport for London (TfL) has urged people to plan their journeys and allow extra time to reach their destination - no matter what method of transport they use.
To help ease the flow of traffic on the roads during the Games, which take places from August 29 to September 9, a Paralympic Route Network (PRN) will be in place - similar to the one seen during the Olympic Games but on a slightly smaller scale.
Those wanting to avoid heavy traffic can check ajourney planner ahead of the introduction of the PRN, which comes into force on the evening of August 28. It will include 8.7 miles of Games Lanes linking the City of London with the Olympic Park and other venues.
Other areas where motorists will be affected are on the M4, and around A102 approach roads north and south of the Blackwall Tunnel.
Transport bosses also warned other major routes such as the A2, A12 and A13 will be busier than usual, especially during rush hour in the morning.
Copyright Press Association 2012