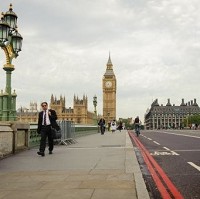 Motorists in London have been enjoying substantially lighter traffic levels since the Olympics started, with new research showing almost one in five drivers have taken a break from the roads.
There are 17% fewer vehicles on the streets of the capital since the Games got under way, Olympic organiser Locog revealed.
The Docklands Light Railway has experienced record passenger numbers, with visitors to the Games using the service to travel between the likes of the Olympic Park in Stratford and Greenwich Park, where the equestrian events are taking place.
Locog chief executive officer Paul Deighton said the reduction in road traffic "means we have been able to be more flexible about opening Games lanes up to regular traffic, and our objective is to get the Games traffic to its venues on time".
The transport system is expected to come under even greater pressure this weekend, as "Super Saturday" sees athletes competing for 21 gold medals.
Copyright © Press Association 2012