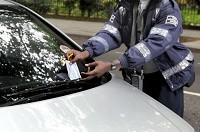 Fewer parking tickets were issued in London between April 2008 and March 2009 as parking chiefs began to focus their attentions on "parking contraventions that matter most".
According to figures from London Councils, in 2008/09 a total of 5,466,219 penalty charge notices (PCNs) including tickets for illegally parked cars, driving in bus lanes and moving traffic contraventions were issued around the capital.
This was 11% less than the previous 12 months and was helped by an 80% drop in the number of clamps from 48,753 cases in 2007/08 to 9,832 in 2008/09.
The number of vehicles removed also went down from 87,770 in 2007/08 to 65,662 in 2008/09 and bus-lane penalties also fell 20% during the period.
The figures show that 75% of the parking penalties issued in 2008/09 were for contraventions in the higher band of the two-tier parking penalty system, which was introduced to London in July 2007.
London Councils' transport and environment committee chairman Mike Fisher said: "It appears that people are beginning to heed the warnings that if they break the rules, they will get a ticket. At the same time, councils are successfully making more efforts to focus their activities on parking contraventions that matter most while spending less time penalising minor cases."
Copyright © Press Association 2009