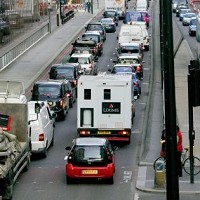 No European motorists endure more congestion than those driving through London, a new study has shown.
Inrix shows that drivers wasted the equivalent of 12 whole working days (or 96 hours) trapped in traffic jams in 2014 - a rise of 14 hours on the previous year.
This is a far steeper rise than the one between 2012 and 2013, when jam time rose by just one hour from 81 to 82 hours a year .
The transport data firm says London has leapfrogged the Belgian capital of Brussels, which endured an average 74 hours of queues last year. It attributes the sharp increase to a growing population and economic expansion.
Motorists in Britain's next most congested city, Manchester, experience only around half of London's woes with 52 wasted hours.
Drivers setting their journey planner to joint third-placed Belfast, Birmingham and Merseyside can also expect heavy jams, with 37 hours lost.
North Staffordshire motorists saw the most marked hikes in congestion over 2014. They spent 26 hours idling in traffic, representing a jump of 37%.
Coventry/Warwickshire motorists' congestion time has also risen sharply - by 33% to 28 hours last year.
Garrett Emmerson, Transport for London's chief surface transport operation officer, says that London's population is growing like never before. Additional traffic is being created by robust economic expansion and the knock-on effect of more building, he adds.
Mr Emmerson advocates the challenge being met by Government investing ongoing amounts in the modernisation of the capital's road infrastructure to increase its capacity.
Inrix president Bryan Mistele says it is the third successive year that Britain has seen a rise in traffic jams. He says more residents living in urban centres has fuelled demand for extra road travel, substantially pushing up congestion levels nationwide.
The British Lung Foundation's (BLF) Penny Woods says the problem goes beyond inconvenience. Dr. Woods, BLF chief executive, says with city road volumes behind 70% of Britain's air pollution, it is also a public health hazard.
Copyright Press Association 2015