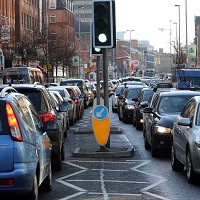 London is the traffic black-spot capital of the UK for morning commuters, according to the Mirror.
The newspaper reveals all 10 of the slowest morning A roads nationwide can be found in the capital.
Its analysis of Department for Transport figures shows the A407 Cricklewood Road in Barnet is the slowest in the country, with drivers having to endure infuriatingly sluggish average speeds of just 2.8mph.
The northbound portion of the A400 in Westminster is the second slowest, where morning speeds only reach 3.8mph on average, while the A2203 northbound in Greenwich is the third slowest with an average speed of 3.9mph.
In fact, drivers struggle to reach 5mph on each of the top 10 slowest roads.
Outside London, the slowest stretch of road is the northbound A6042 in Manchester, where drivers average speeds of 7.1mph.
Most morning commuters would admit they do not like their drive to work.
But some of those that do would more than likely be found on the A289 westbound in Kent, where cars travel along at a speedy 62.9mph at the busiest time of the day, making it the fastest A road in the country during rush hour.
Copyright Press Association 2015