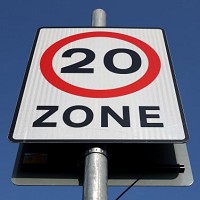 Drivers face eight additional 20mph zones in London, which will be policed by upgraded digital safety cameras.
Boris Johnson, the capital's Mayor, said that Tower Hamlets' Commercial Street will begin the trial.
Westminster Bridge, the town centre of Brixton and west London's Earls Court Road are among those due to follow.
Breaking 20mph speed limits could result in fines or even bans.
But this new ceiling is something that motorists should be getting used to, with some areas outside the capital already having 20mph schemes in place.
These include Slough, Derby, Cambridge and Manchester, where the limit has been introduced across 40 streets.
Central and western parts of Edinburgh will follow suit in April 2016.
Today, nearly a quarter of all London's roads have 20mph limits.
Croydon, the City of London, Camden and Islington already observe this lower limit and Hackney intends to add to the list in 2016.
Copyright Press Association 2015