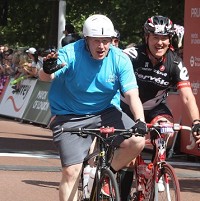 Motorists are sharing the capital's roads with a record amount of cyclists, according to new figures.
The numbers jumped by 10% in the quarter to December 2014 alone, compared to the corresponding three months in 2013. This increase made the overall figure the largest since numbers started being recorded 15 years ago.
The Transport for London (TfL) announcement comes a week after London Mayor Boris Johnson published finalised plans for new cycling superhighways in the capital. These would significantly aid travel from East to West and North to South.
The trend towards pedal power looks set to continue with TfL predicting a 12% increase over 2014/15 on the year before.
A record 10 million-plus bikes were hired during 2014, up a quarter on the previous year's figures, and up by 5% on the previous record year of 2012.
As many as 10,023,987 trips were made on the cycle hire project in the capital. There was also a Christmas Day record of 40,000 bike hire trips made in 2014.
Mr Johnson said it is unquestionable that bikes have transformed the way Londoners get around their city. Cyclists can hire over 10,000 bikes from more than 700 docking posts.
Copyright Press Association 2015