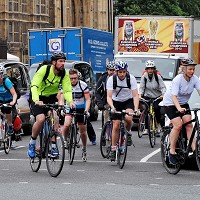 Cycling in London is the safest it has ever been, despite a string of tragic accidents this year, official figures claim.
Six cyclists have been killed in collisions with lorries in the capital since the start of the year, but the latest statistics from Transport for London (TfL) show 2014 was the safest year on record.
The number of cyclists on the roads has risen by 11% compared with 2013, but the number of cyclists killed or seriously injured fell by 12% to 432.
Last year saw 13 deaths and 419 serious injuries, while in 2013 there were 14 fatalities and 475 serious injuries. There has been a big improvement in recent years as the figures for 2013 were down by 27% in comparison with 2012, according to TfL.
One journey in every 513,000 now ends in death or serious injury, which is the lowest rate ever recorded, beating the previous best in 2006 when it was one journey in every 434,000.
London Mayor Boris Johnson, a keen cyclist himself who introduced the popular bike hire scheme in the capital, says the figures on cycle safety are "tremendously encouraging". He hopes they will give even more people the confidence to get on their bikes.
Record numbers of people are already pedalling their way around London. The total number of cycle journeys on all roads in the capital jumped last year to around 610,000 a day - which equates to almost 223 million a year. This was up by almost 25% on 2008.
And cycling has become a regular habit for many road users. Some 72% of people who cycle in London do so at least once a week, rising from two-thirds in 2013.
Cyclists themselves are also acknowledging the safety improvements, with 91% of regular cyclists and 88% of occasional cyclists feeling safe when riding in traffic. This is up on 2013, when 89% of regular cyclists and 75% of occasional cyclists said they felt safe.
Copyright Press Association 2015
https://www.tfl.gov.uk/ (Transport for London)