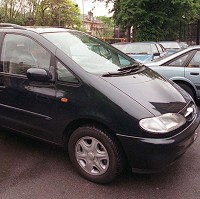 London's largest minicab firm has agreed a deal with Ford to supply Ford Galaxys for a further two years.
Addison Lee, London and Europe's largest minicab firm, has penned a two-year deal with Ford rather than the usual 12-month deal.
The Ford Galaxy has been proven to be particularly fuel efficiently for such a large car and have a low emissions output. It is expected that a further 3,000 will join the minicab's driving force over the two-year period.
Most of Addison Lee's minicabs are already made by Ford, with the UK's market leader supplying around 50 vehicles per week to the industry.
Liam Griffin, Addison Lee managing director, said: "The Ford Galaxy has become synonymous with Addison Lee and representative of our professional service, so we are delighted to partner with Ford for another two years.
"Ford's commitment to producing cleaner, more efficient engines has also contributed towards Addison Lee reducing CO2 emissions across our entire fleet by 10% last year."
Copyright © Press Association 2012