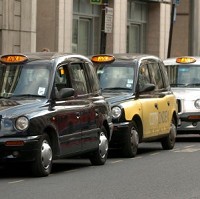 London's famous black cabs are in danger of being driven into extinction, according to mayoral contender Zac Goldsmith MP.
Along with its red buses, London's famous taxis are among the capital's most iconic symbols.
But the Conservative MP for Richmond Park says while the cabs form a crucial part of the capital's transport network, their days could be numbered unless they're handed a more level playing field.
He says while the black taxis are the most regulated cabs in the world - adding to the costs they face - standards for private hire vehicles need raising.
And he fears that if the trend continues the iconic cars could disappear from the capital's roads within a few years.
His views are echoed by Labour's London mayoral candidate Sadiq Khan.
The Tooting MP says he fears the growing number of private hire vehicles in London and the rise of the Uber taxi app could spell the end for the black cab.
He is calling for legislation to protect the distinction between the black cabs and private hire vehicles and to make sure those new to the market operate fairly.
Copyright Press Association 2015