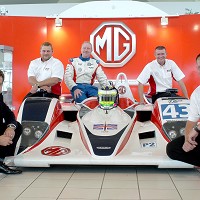 Racing car engineering company Lola Cars has announced that it has regretfully called in the administrators for the second time in 15 years.
The company, which has its headquarters in Huntington, found the current economy unmanageable and said it has left it to the administrators to take over.
Despite announcing that investment had been good in the past few years the company released a statement saying that after its research and development funding was cut, the spare cash dried up.
The company released a statement which said: "In recent years, significant investment has been made in technology and capability in the motorsports business as well as diversifying and creating Lola Composites Limited, serving the defence, aerospace, communications, renewable energy, automotive and motorsports markets.
"The latest economic downturn and the decision of HMRC (Her Majesty's Revenue & Customs) not to pay ongoing R&D (research and development) tax credits has caused a serious cashflow problem for the businesses."
Members of the board will still aim to seek investors and secure deals to try to get the company back on its feet and give the staff some security.
Copyright © Press Association 2012