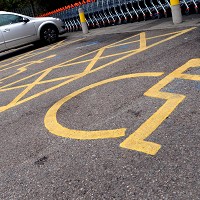 Conservative MP Philip Davies has called for the authorities to clamp down on drivers who misuse disabled parking badges, with a minimum six month jail term suggested as a deterrent.
Mr Davies has hit out at motorists who steal disabled "blue badge" parking permits in order to get a more convenient space for their vehicles, saying they rob disabled people of the "freedom to go about their daily lives".
"This actually causes a great deal of distress to many people. It causes them not just inconvenience but it can deprive people of actually going out and living their lives," he told the Commons.
"If somebody steals a blue badge, the double whammy effect is not only are they then using a space that they don't need and denying somebody else that space, but they've also taken away the blue badge from the person who genuinely does need it so that they are also unable to claim their space."
Mr Davies, who also called for a three-month minimum term for those who use fake blue badges, spoke out as MPs considered the Disabled Persons Parking Badges Bill, which will firm up the rules on the use of badges.
Copyright Press Association 2012