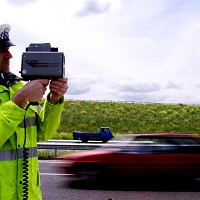 Volunteers from an Essex village have caught 35 drivers speeding along an Epping Forest road.
Twelve locals decided to take it upon themselves to catch speeding drivers after concerns about vehicles speeding through the village of Stanford Rivers on the A113.
The parish council bought speed guns which the volunteers use in order to attempt slowing down drivers. The scheme has been supported by the police.
Parish councillor Alan Buckley says he understands why locals feel strongly about the traffic as it is intimidating walking along the pavement when cars speed past.
He said: "I'm rather surprised we recorded that many drivers because normally, motorists flash their lights when there are cameras, so others slow down."
The volunteers patrolled the Epping Forest road over three two-hour weekend sessions before Christmas, recording nine speeding cars in each of the first two slots and 17 in the third.
Speeding vehicles registration plates are recorded for the police to write a letter of warning to the registered driver. After being caught three times, drivers face prosecution.
Flashing signs telling drivers if they are going too fast upon entry to the village have also been installed in an effort to slow vehicles down.
It is important to remember that speeding increases stoppage time when breaking which could result in accidents on the roads and subsequent claims on car insurance policies.