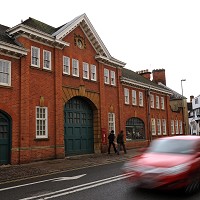 A range of historical sites linked to Britain's motoring heritage have been given listed building status.
The Culture Department declared 13 buildings, which are deemed part of UKs motoring history, national treasures.
According to Heritage Minister Ed Vaizey, the buildings should be preserved as part of the "golden age of the motor car."
The government body said the birthplace of the Morris Oxford car, which was built at a garage in Longwall Street, Oxford in 1909 or 1910, must remain untouched.
Although the garage is now used for student accommodation, the exterior of the building remains as it was more than a century ago.
Another popular site for motoring enthusiasts is in East Sheen, Surrey, where fans can view a 1926 American-style gas station, which has also been given grade II listed building status
The sites, which will also be published in a book, are open to the public, including a century-old garage which was built as part of the former Savoy Hotel in Blackpool.
Mr Vaizey said: "There was an undeniably romantic flavour to motoring in the UK during the first half of the 20th century. Cars looked distinctive and many designs we now think of as classics were born in that era."
Copyright Press Association 2012