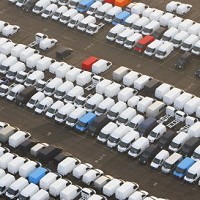 Light commercial vehicles are remaining in demand despite the tough economic circumstances, it is reported.
BCA's latest Pulse report shows there was a slight fall of 2.5% in light commercial vehicle values between April and May.
However, the April figure was a record high and May's total was still the second highest average monthly value since Pulse began reporting in 2005.
The average May figure for all LCVs was £4,870, down by just £128 from the previous month.
BCA spokesman Duncan Ward said "demand remains strong across the range" of LCVs, though prices are affected by excessive mileage or damage.
Those who do purchase LCVs with higher than ideal mileages may want to ensure they take out good qualitybreakdown cover , which can provide added peace of mind, though it seems some buyers are willing to pay a premium to secure the most desirable vehicles.
Mr Ward added: "The best prices are paid for vans in good colours with a high specification and any rare or unusual vehicles will generate the most attention."
Copyright Press Association 2013