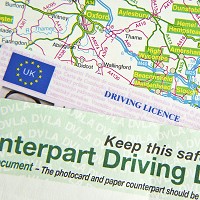 A total of 226,803 UK drivers have received points on their licences for driving with nocar insurance , according to a Freedom of Information request.
The request from the Institute of Advanced Motorists (IAM), directed to the DVLA, shows that 194,997 full licence holders and 31,806 provisional licence holders have been caught driving without vehicle insurance and received points, one in every 200 drivers.
One in every 100 with a full licence had points for driving without insurance in the 17-35 range.
Among 17-24s men are shown to be four times as likely to have points for no insurance than women and 25-35s appear the likeliest to drive uninsured (81,003 with points).
Over-65s are the most unlikely to have points for driving with no insurance (0.06%).
Those driving uninsured were condemned by IAM chief executive Simon Best for putting the burden back on law-abiding drivers through bigger premiums and perhaps vehicle repair costs.
Insurance fraud and uninsured driving is growing and requires a co-ordinated approach by enforcement bodies, said Mr Best.
An 18-year-old with a £950 premium could expect to see this rise to £2,195 - on top of six points and a fine. For a 30-year-old it would increase from £228 to £4,621.
Copyright Press Association 2013