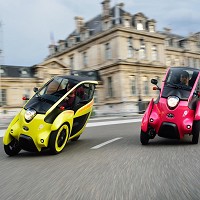 A radical, public electric car sharing project is being launched in Grenoble, France.
The scheme, in association with Toyota, means from October any license holder aged 18 or over can register with Cite Lib and take out any of the 70 Toyota vehicles from their charging stations across the city.
Toyota's Ha:Mo, or Harmonious Mobility system enables customers to download an app which shows their nearest ready-to-use vehicle.
People can then pick up the vehicle and drop it off at any of the 27 charging stations installed by EDF, Sodetrel in Grenoble where it will be quickly made ready for the next customer.
The vehicles in question are the innovative three-wheel Toyota i-Road and the four-wheeled Toyota COMS, which have already been used in a successful pilot programme in Toyota City in Japan.
The stylish stand-out Toyota i-Road uses an active lean technology to simulate the turning movements of a skier, conserving energy and improving cornering in the process.
The overall feel is a little like a motorbike or scooter but with more stability and the added safety of a full canopy.
It is hoped that this scheme will pave the way for many more like it.
Copyright Press Association 2014