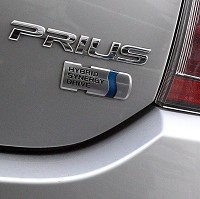 The Liberal Democrats are planning a radical fuel-efficiency drive which would see millions of ordinary cars banned from Britain's roads.
Controversial measures unveiled by Nick Clegg's party would allow only ultra-low carbon vehicles on roads by 2040, and would result in millions of petrol and diesel cars being forbidden.
Under the Lib Dem plans, only electric vehicles and ultra-efficient hybrid cars would be allowed on UK roads, although petrol and diesel vehicles would be allowed for freight purposes. Voting by party members will take place at the upcoming Lib Dem conference in Glasgow and the proposals would become party policy if approved.
The policy document states that "by 2040, only ultra-low carbon vehicles will be permitted on UK roads for non-freight purposes."
In addition, the Lib Dems wish to introduce a system of road pricing in congested areas. The Coalition has ruled out imposing tolls on the road network prior to the election, but no promises have been made for after that. In a further attack on high-fuel consumption travel, the Lib Dems also want to replace air passenger duty with a "per plane" duty. This would charge a passenger in proportion to the carbon emissions of the particular journey.
Copyright Press Association 2013