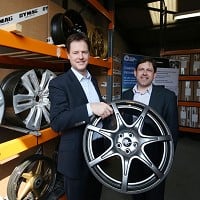 The search to find the low-emission car manufacturer which can crack the UK market has been given an added stimulus.
The Liberal Democrats have promised to put up a state-funded £100 million kitty for an ultra-low emission vehicle (Ulev). That is, if it regains a foothold in the Government after next month's general election.
The cash would be offered to any Ulev manufacturer which could break through into the UK's table of top five best-selling motors, currently monopolised by mainstream models.
Based on current sales figures, this would mean an Ulev producer selling about 60,000 units a year.
Incentives needed
It is part of the Liberal Democrats' plan to ban traditional petrol and diesel motors from the UK's roads before 2040.
Ulev cars have CO2 emissions under 75g/km, making them far cleaner than typical present-day 128.3g/km new vehicles - and also way cheaper to run .
Party leader Mr Clegg said people's mind's will only be changed if the correct infrastructure and incentives are in place to stimulate green employment and investment.
He says that dangerous air pollution rates take eight months off the average person's life expectancy.
Mr Clegg hopes that the £100 million on offer will help to fuel Britain's low-emission vehicle "revolution".
The Liberal Democrats think that any winner of its prize fund could produce a green model setting drivers back between £10,000 and £15,000.
This, along with subsequent reduced running costs, would make them sufficiently within the budget of motorists to make the successful contender a bestseller, they add.
Faster and further
Mr Clegg said the Government has to go "faster" and "further" in making the country lead the world when it comes to low-emission cars.
He adds that the incentive is particularly relevant at a time when Britain currently trades more motors than it purchases, something not seen for four decades.
The Government has its own Office for Low Emission Vehicles (OLEV). It is investing more than £900 million in an attempt to help the UK lead the global race on ULEV development, building and usage.
It said this will not only help lower road air pollution but generate economic growth too.
Copyright Press Association 2015
https://www.gov.uk/government/organisations/office-for-low-emission-vehicles (Office for Low Emission Vehicles)