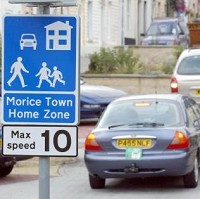 Motorists could be asked to slow down to under 10mph when driving near schools, if Liberal Democrat plans are adopted.
Giving councils in England the power to impose 10mph speed limits outside schools forms part of the party's proposed Green Transport Act.
If the act becomes law, vehicles that emit high levels of CO2 would be banned from British roads within 25 years. Meanwhile, from 2030 all new buses and taxis would be required to have ultra-low emission levels.
Aimed at cutting pollution, the proposals are set to be discussed by the Liberal Democrats at their spring conference, which is set to get underway in Liverpool on March 13.
The act is likely to form one of the five green laws the party will promise in its election manifesto.
Other proposals include a law to abolish coal-fired power stations if they don't capture and store carbon, adopting a target for zero carbon emissions by the middle of the century and tougher penalties for environmental crimes like fly-tipping.
Copyright Press Association 2015