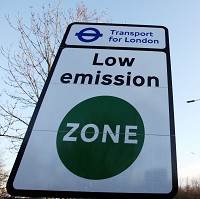 The Liberal Democrats have pledged to cut vehicle emissions and reform the car tax vehicle excise duty system - plans the RAC claims require further scrutiny.
The party's election manifesto, launched by Nick Clegg on Wednesday, calls for low emission zones to be introduced in the most polluted towns and cities across the country in a bid to improve air quality and reduce the carbon footprint.
Green Transport Act
The document outlines how the party would implement a Green Transport Act that could legally require areas worst affected by vehicle emissions to impose limits on pollution-heavy vehicles using their roads.
Vehicles that conform to the higher emission standards would be allowed to enter the zones free of charge, while those that fail to meet the standards would be charged - like the low emission zone in London.
The Lib Dems plan to review the MOT test process to see whether changes could be introduced to cut emissions from existing vehicles. It has set a target of 2040 after which only ultra-low emission vehicles would be permitted on UK roads for non-freight purposes.
Also pledged is a reform to the car tax vehicle excise duty system to include a separate banding for new diesel cars.
RAC chief engineer David Bizley said: "The Lib Dem plans for a reform of Vehicle Excise Duty (VED) will require further scrutiny, as ultimately motorists will want to know whether or not they may end up paying more in tax.
"There is an important balance that would need to be struck here. On the one hand it is right that the tax system incentivises the purchase of more efficient vehicles; however for many years VED has been a sliding scale based on a vehicle's CO2 emissions, which incentivised the widespread purchase of new diesel cars. The RAC is looking for reassurances that any new tax bandings would not unfairly penalise such motorists who previously chose diesel in good faith based upon advice from scientists and encouraged by the Government.
"On fuel, motorists in rural areas would welcome the continuation of the fuel discount scheme. The RAC was pleased to see further locations benefit this year but there are many more remote communities that rely heavily on their vehicles, yet get stung with considerably higher fuel costs than those in our towns and cities."
Rail
Away from the roads, there is a focus on improving the rail network in the 157-page manifesto.
The Lib Dems have promised to develop a comprehensive plan to electrify the majority of rail lines, reopen smaller stations, restore twin-track lines to major routes and proceed with the £50 billion HS2 high-speed rail project.
It would also invest in new stations, lines and station facilities, plus explore the prospect of a rail connection between Oxford and Cambridge.
But the party has come out firmly against any new runways, with the Whitehall-appointed Airports Commission due to make a recommendation this summer on whether a new runway should be built at Heathrow or Gatwick.
It is concerned about local issues of air and noise pollution, stating it would ensure no net increase in runways across the UK.
Copyright Press Association 2015