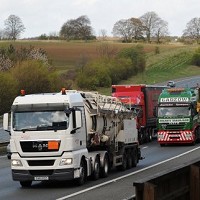 Secret plans were hatched to charge motorists £120 a year to use the A1, a former Liberal Democrat minister is claiming.
Norman Baker says his party vetoed their Conservative Coalition partners' proposals to turn the highway and other major routes into toll roads.
Only two years ago doubts were cast on the future viability of UK toll roads with the alleged failure of M6 road charges. But Mr Baker, who used to be transport minister, claimed that Tories wanted to launch a £10-a-month "network pass".
Such a pass would have run via a special system which recognised individual number plates, he claimed.
This, Mr Baker alleges, would have entitled motorists to use not only Northumberland's A1 stretch, but the cross-Pennine route linking the A66 with the A69. It would also have allowed them to travel on the A66 stretch linking Teesside to the A1.
This would have been on top of the existing road tax, Mr Baker said, thus condemning motorists to paying twice for using these roads.
On Friday, April 24 the Conservatives rubbished Mr Baker's claims as "fantasy".
Patrick McLoughlin, the current Transport Minister, called the revelations "simply untrue" and "complete fantasy", describing the Liberal Democrats' tactics as "low".
He said he had enjoyed liaising with Mr Baker in the Coalition but added that it was "sad" to see such actions being resorted to. Mr McLoughlin instead accused the Liberal Democrats as being the party most likely to press for road tolls during the Coalition's administration.
Mr Baker alleged that the plans were hatched two years ago in his time as minister.
He said that the Liberal Democrats vetoed the Tory plan to charge motorists £10 a month to use motorways plus several A-roads, such as the A1, A66 and A19.
Mr Baker said that such a plan would have resulted in more traffic jams and slower, riskier journeys as traffic instead took free Northumberland back-road alternatives, including the A697 and A68.
He also said that implementing the "network pass" project could have been massive. Even worse, Mr Baker added, motorists would have been encouraged to use their vehicles more to get full value for their money.
Copyright Press Association 2015