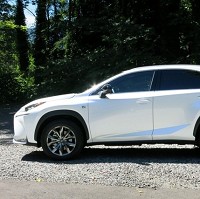 Lexus has suggested that its latest NX crossover will be one-part car and one-part modern art.
Viewers may do a double take on first seeing the new concept, the brand suggests, as it looks like a seamless structure made from just one metallic piece.
The car has this appearance because Lexus poured molten metal onto the die when creating the grille.
The model marks the firm's arrival into the luxurious mid-size SUV market.
The manufacturer hopes that its performance as well as its appearance will send drivers to Lexus showrooms in the new year.
The NX facelift, with robust curves, a sloping roof-line and imposing angles, gives it the most individualistic look in the Lexus stable, the brand indicated.
Daylight running lights and the latest LED headlamps also feature in the new look. It is described as "fun" to handle and can seat five people.
Copyright Press Association 2014