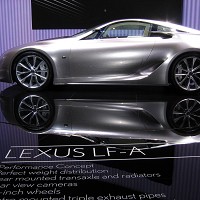 Production of the fastest and most expensive and fastest supercar to come from Lexus has come to an end.
The final Lexus LF-A car to roll off the dedicated production line at the Motomachi plant at Aichi Prefecture in Japan was a white LF-A Nurburgring Package.
LF-A chief engineer Haruhiko Tanahashi said he felt privileged to have been involved with the project.
He added: "I've lived and breathed supercars for the past decade. Specifically one supercar, LFA. Very few people have the opportunity we had to create a world-class supercar from a blank sheet of paper."
The limited production run of the supercar started just before Christmas 2010. A team of some 170 hand picked specialist workers involved in parts-making, vehicle assembly and painting helped the plant complete, on average, a car a day. In total some 500 cars have been built, having been launched with a base price of well over £200,000 in December 2010.
Copyright © Press Association 2012.