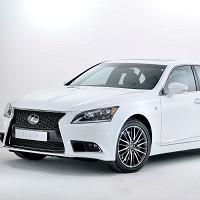 A group of lucky motoring enthusiasts has been given the opportunity to see the new Lexus LS for the time in the UK at a secret demonstration in central London.
Some of the new features on the latest Lexus model include Drive Select and Lexus family driving as well as a wooden steering wheel and other upgraded interiors.
The vehicle will not come cheap when it goes on sale though, with prices ranging between £71,995 and £99,495. At those prices,car insurance cover may not be cheap for people considering buying the car.
According to the car manufacturer, the latest version includes 3,000 changes, including a deeper 'spindle' front grille and new, solid-strip daytime running lights.
Other changes to the interior include a round analogue clock in the centre console that automatically adjusts to the local time zone.
Copyright Press Association 2012