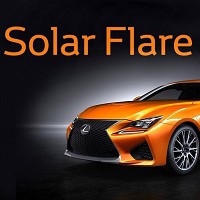 Lexus is calling the striking orange paint covering its RC F coupe Solar Flare after the name was suggested by five followers of its Facebook page.
Krisstian Allen, Paul Britt, Joe Ettwein, Matt Frenchy and Peter Robert Shaumburg Fodor all came up with the name for the colour in response to an online contest, so Lexus Director Richard Balshaw chose it ahead of hundreds of others.
Solar Flare will be one of the available colours for the RC F when it hits the company's forecourts towards the end of this year.
Mr Balshaw said Lexus was pleased with the number of enthusiastic responses to the challenge but he thought Solar Flare was the best way to describe the colour and also highlight the car's power and passion.
The manufacturer has seen a great deal of interest in the RC F since its unveiling at the Detroit Motor Show in January. Not only does it look the part with its shape and colour, it provides impressive performance with its five-litre, 32-valve V8 engine.
Developed exclusively for the coupe, the engine is capable of producing in excess of 520Nm of torque and 450bhp.
The high quality engineering continues with carbon fibre engine components, direct-shift transmission technology with eight speeds, torque vector differential and lifting rear wing.
Copyright Press Association 2014