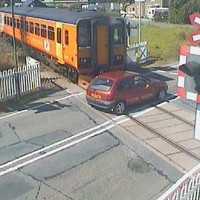 The dangers of level crossings have been highlighted by rail safety teams who have visited some of the commonly misused sites.
Network Rail's teams visited "danger" crossings in Greater Manchester, Kent, the West Midlands and Leicestershire to promote the safe use of level crossings through awareness events.
The Don't Run The Risk events were held in support of a European level crossing day of action.
Network Rail (NR) has highlighted the issue after there was a reported 3,400 instances of misuse last year in which 15 people were killed.
However, Britain is one of the safer European nations, according to figures from the International Union of Railways, which showed that Hungary had the worst record for level crossing-related deaths with a total of 118 last year.
Germany was the second worst with 52 deaths, followed by France with 38 and Portugal and Spain with 17 each.
NR community safety head Martin Gallagher said that people risk their lives time and time again by ignoring warning signs, jumping the level crossing gates or swerving around barriers.
He added: "We're out today where misuse is at its worst to try and hit home the message that running the risk at a level crossing is just not worth it."
Copyright © Press Association 2009