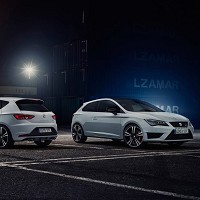 Seat has unveiled two new hot hatch versions for its Leon model, the Leon Cupra and Cupra 280, the second being the most powerful Seat so far.
The standard Cupra provides 265 horsepower and the upgrade, 280, with both powered by 2.0-litre TSI turbo petrol motors from the VW Group.
Drivers can go for a three-door SC bodystyle or a five-door which is only available on the 280.
The Leon package now boasts a mechanical locking differential, tuned suspension and stability control, and an enhancer of the engine's sound in the cabin.
Other differences between the versions include the 280 offering a more aggressive-looking bodykit, bigger alloy wheels and a seven-speed DSG dual-clutch transmission.
Prices start with a three-door Cupra costing £25,690, to £28,525 at the top end of the scale for a five-door Cupra 280 with DSG gearbox.
The Spanish car maker has opened its order books in advance of March deliveries.
Copyright Press Association 2014