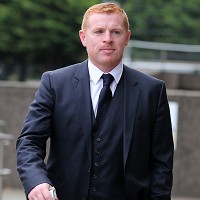 Celtic manager Neil Lennon has been cleared of sending a text message while driving.
Two police officers said they saw Lennon, 42, with his left hand on the wheel and his right hand outstretched, holding his mobile phone, while driving a black Audi Q7 in Glasgow on July 26 last year.
Lennon had denied the offence and Stipendiary Magistrate Josephine MacLean ruled that there was no case to answer following a trial at the city's Justice of the Peace court.
She told the Celtic manager: "I uphold the submissions that there is no case to answer. You are not guilty, you are free to go."
You can get an automatic fixed penalty notice if you're caught using a hand-held phone while driving. This includes three penalty points on your licence and a fine of £100.
If your case goes to court, you could be disqualified from driving and get a maximum fine of £1,000 - something which could also affect your future car insurance premiums.
Copyright Press Association 2013