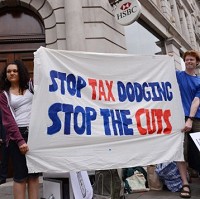 A direct action network will bring cars to a standstill as it blocks roads in protest of legal aid cuts.
UK Uncut has planned demonstrations across the country for October 5, which will affect motorists, and the group has urged other activists to follow suit.
UK Uncut representative Sarah Price said the poorest and most vulnerable have been hit by legal aid changes.
"By insisting on these so-called 'cuts', the Government takes away our ability to challenge their decisions, allowing them to cut deeper and without the legal challenge," she said.
"Yet these changes are not about saving money: they are designed to rip away the foundations of the democratic system, making the weak and vulnerable voiceless."
Lynn Jacobs, a supporter of the group, is behind the action because she has already been affected by legal aid changes. She left an abusive relationship and did not know how to protect herself.
"Because of the changes to legal aid, I could not afford get a court order to protect myself from my ex-partner," she said.
Copyright Press Association 2013