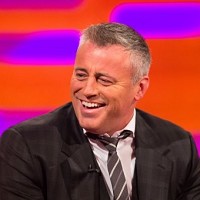 Matt LeBlanc has spoken of his excitement at being named the new co-presenter of Top Gear.
The Friends star's appointment on the BBC2 flagship motoring magazine show has shocked pundits.
LeBlanc will join Chris Evans when the programme returns this spring.
In December BBC officials announced that Top Gear was scheduled for a May 8 return.
LeBlanc is a self-confessed Top Gear fan and "car nut".
The 48-year-old American comedian and actor says he is excited at getting the chance to help write a new chapter of what he calls "this iconic show".
His appointment was confirmed with a tweeted picture. The photograph shows The Stig with LeBlanc and Evans.
Evans says LeBlanc has always been a petrol-head. He calls playing out their "craziest car" ideas on camera a dream of a job. The TV and radio host expects the pair to be thrashing out road trip suggestions which could be "epic".
LeBlanc comes to the job with pedigree. He recently presented Top Gear: The Races. This was an affectionate seven-episode lookback at highlights from the programme's opening 21 series.
Copyright Press Association 2016. Motoring News articles do not reflect the RAC's views unless clearly stated.