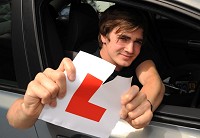 More and more learner drivers take lessons from their family and friends as they find professional tuition too expensive, a survey revealed.
According to a survey by price comparison site uSwitch.com, nearly a fifth of those who get trained by their family and friend find the experience "bad" and would not recommend it to others.
The poll showed that 12% of learners take lessons from amateur drivers, while 13% mix-and-match their instructors.
Nearly three-quarters of those tutored by amateurs said they could not afford expensive lessons from professional instructors.
A total 46% said they had in-car arguments while taking tuition from amateurs, and another 27% believed they learnt bad driving habits.
Mark Monteiro, of uSwitch.com, said: "Learner drivers are increasingly seeking to keep costs down by relying on 'freebie' tuition from family and friends."
Stating that this cost-effective means need not always be straightforward, he added: "Taking a stressful situation and adding in arguments, bad behaviour and family friction can mean it becomes a nightmare for all involved.
"Amateur instructors are also likely to miss vital parts of the picture, such as making sure the learner is insured to drive the vehicle they are learning in. This could have serious and long-lasting consequences for all involved."
Copyright © Press Association 2009