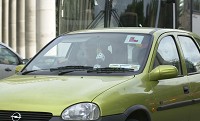 Residents in one part of Swindon have erected specially-designed signboards along the street in a move to discourage learner drivers taking lessons in their area.
The signs on Churchward Avenue have a regular 'L' plate with a line crossed through it.
Annoyed residents complained that it is not unusual to see three or more learner drivers in the road at any one time.
Speaking on the move, a Swindon Borough Council spokesman said: "Any signage that is placed on the highway must comply with the Traffic Signs Regulations and General Directions 2002 otherwise it is unauthorised."
The spokesman also said that residents should take permission from the council before they could attach any signs to street furniture, such as street lights, because they come under council property.
He continued that if the signs are placed on the council property without prior permission, it will be considered as "flyposting" and the local authorities will instruct their enforcement team to remove the sign.
As a response to this move, the Swindon local test centre has now called upon instructors to use other roads.
Copyright © Press Association 2009