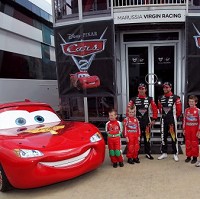 Some of the secrets of one of cinema's hottest animated car stars are being revealed at a new US museum attraction from this week.
Lightning McQueen, who was voiced by actor Owen Wilson, charmed audiences in Pixar's Cars and Cars 2 in 2006 and 2011 respectively. Now visitors to Petersen Automotive Museum in Los Angeles will see exactly what is behind his success.
The animation studio is presenting a lift-size model of the automotive movie star. They are also lending original artwork by Bob Pauley, designer of the Cars franchise.
Other Cars attractions include real-world depictions of McQueen's working parts, such as his suspension and engine.
The end result is the first museum display to help teach families how animated cars make their way on to the big screen.
Cars creative director Jay Ward says project leaders have had to be "very careful" not to reveal too much of McQueen in an attempt to keep the illusion going for younger fans.
Cars voice-over actors will also guide visitors through a second-floor augmented reality feature at the tourist destination.
The Petersen Museum has benefited from a $90 million upgrade ahead of Monday's (December 7) public re-opening.
There is a fresh exhibition floor, restaurant and steel ribbon facade, while visitors can also enjoy many simulator stations for the Forza MotorSport 6.
In addition, cars from Magnum PI, Batman and James Bond film Spectre are being exhibited. The museum includes alternative power, hot rods and motorbike displays.
Copyright Press Association 2015. Motoring News articles do not reflect the RAC's views unless clearly stated.