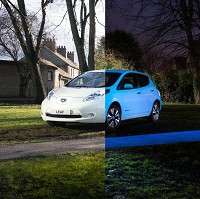 Nissan's all-electric Leaf certainly stands out from the crowd - and now it glows in the dark.
The Japanese automaker has given a fresh lick of special glow-in-the-dark paint to the popular hatchback to show how it is helping more and more people around the world convert to solar energy at home.
It is the first manufacturer to apply UV absorbing glowing paint to a production car. While glowing car paint is already available, this ultraviolet-energised paint is unique as it is made of entirely organic materials.
A spray coating known as STARPATH, the brainchild of inventor Hamish Scott, was applied to the Leaf. It absorbs UV energy during the day so that it glows for between eight and 10 hours when the sun goes down.
The bespoke paint, made especially for Nissan, would last for 25 years if made commercially available.
Money saved at the pumps by Leaf owners - it costs just two pence or less per mile to run - has gone towards a variety of items. Solar panels for the home, which reduce the household carbon footprint and means owners are also effectively charging their vehicle for free, are among the most popular.
Copyright Press Association 2015