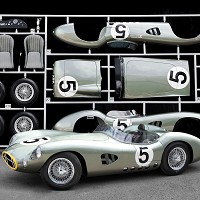 In honour of the men behind the Le Mans-champion Aston Martin DBR1, a Hertfordshire company has built a life-size replica of the car.
Over the last year, the real car's drivers Carroll Shelby and Roy Salvadori and the car's chief engineer Ted Cutting have died. The three were key to the success of the Aston Martin DBR1.
Evanta Motor Company has commemorated these men's accomplishments by building a highly detailed replica that is a large AirFix kit.
The 1:1 scale replica of the only Aston Martin to win Le Mans boasts exacting detail and price.
Not to be easily displayed in the home, the 6.35 metres wide and 3.4 metres tall replica can be divided into two parts for easier transport. As this particular car will never see the road, its owner will not need to take out breakdown cover.
"Aston Martin's sole Le Mans win of 1959 is a huge part of British motorsport. The loss of both drivers and Ted Cutting within the same year is saddening," said Evanta managing director Ant Anstead, adding:
"We wanted to do a tribute to these three great men and such a beautiful and iconic car. What could be a more fun and fitting tribute than every boys dream toy: a life-size model?"
Copyright © Press Association 2012