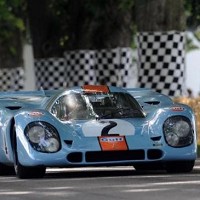 Classic car fans can view the iconic Porsche 917 which starred in Steve McQueen's classic Le Mans movie at the Classic Motor Show this weekend.
As well as a superb racing CV, the classic motor is best remembered for being driven in the 1970 racing film.
Motor enthusiasts hoping to catch a glimpse of this revered vehicle can head to Birmingham's NEC for the show, which runs between Friday and Sunday (November 14-16).
The car won several famous races, such as the Monza 1000km and Daytona 24-Hour event. Leading drivers who have got behind her wheel include Richard Attwood, Jackie Oliver and Derek Bell.
The historic vehicle arrives from its resident Stavelot, Belgium-based Spa Museum and will be a cornerstone of the show's "Big Screen" theme.
Classic & Sport Car magazine is delivering the Porsche to its temporary Birmingham home.
Copyright Press Association 2014