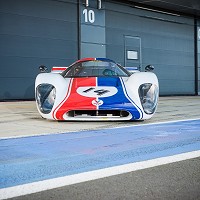 Taking centre stage at the Silverstone Auctions-hosted Race Retro & Classic Car Sale is the star of the classic Steve McQueen film Le Mans, a 1969 LOLA race car.
The Lola T70 on offer is one of three MKIII B's that were used in the action-packed thriller, and the car, estimated to fetch between £570,000 and £650,000, now enjoys an iconic status to rival the film itself.
Stoneleigh Park's Race Retro weekend is the venue of the auction on February 23, and the actual model open for bids at the show saw a fairly prolonged acting career. It was repainted yellow for the movie and took a dramatic spin on the downhill approach to the Indianapolis corner. However, it was then 'cloned' to look like a Gulf-Porsche 917 for a spectacular crash sequence that finally saw it rest in peace, following a collision with the Armco barrier.
Managing director of Silverstone Auctions, Nick Whale, commented on the very special car: "Whether you're a fan of the big screen, love cars that are built purely for excitement, or just admire its amazing styling, you have to admit that this is one very special race car."
Following the car's acting career, it was completely rebuilt for European sports car racing 'at the highest level'. The auctioneers also describe how the car comes 'on the button' with current FIA papers, a fresh engine, a rebuilt gearbox and a new differential.
Copyright Press Association 2013