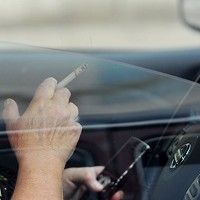 It will be difficult to police drivers lighting up in cars if the practice becomes outlawed in Scotland, solicitors have warned.
Under the plans, motorists would receive £100 fines if caught smoking in their car with children aboard. Ministers have indicated their backing to the proposal from Liberal Democrat Jim Hume, an MSP.
Scotland's Law Society now says police would be "challenged" by such a move. But it backs Mr Hume's Smoking Prohibition (Children in Motor Vehicles) (Scotland) Bill in principle.
The Law Society has given written submissions to the Scottish parliament committee dealing with sport and health now looking at the plan.
English MPs have already voted by 342-to-74 to ban in-car smoking while children are on-board. This legislation will come into force in October with anti-smoking campaigners hailing it as a substantial "victory" for safeguarding children against inhaling second-hand smoke. Experts claim that around 430,000 children are exposed to in-car cigarette smoke each week.
The Scottish Law Society branch wants any new laws north of the border to incorporate the publicising of smoking prevention awareness education.
But the society's medical and health law committee convenor Alison Britton admits it is hard to work out how the police can "appropriately" enforce such laws.
She said that in every case, enforcement police officers would have to see not only the offence happening, but to determine the correct age of any minors present.
Police patrols' challenges will increase if there is excessively substantial traffic, two or more smokers on board or if a vehicle is moving, Ms Britton added.
Enforcing the proposed law would rest in the hands of local police forces among their wider road safety remits.
Ms Britton said the new criminal offence would apply to any smokers with children aboard. She said police could use existing powers to ask the driver to stop their car if they suspect that the planned new law is being violated.
Experts claim that just one cigarette can expose under-18s in the same car to tar, formaldehyde, arsenic and other cancer-causing chemicals.
Copyright Press Association 2015