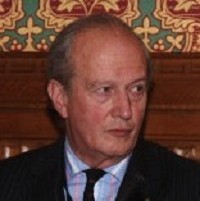 Drivers who suffer minor injuries in road accidents should no longer receive compensation if they don't plan to use it to fund treatment, a former Cabinet minister has recommended.
Motorists could save an average £32 on their annual car insurance bill under his plan, Lord Hunt says.
The Wirral-based peer said his idea would bring Britain more into line with the rest of Europe, where there isn't such a culture of whiplash claims.
He said that drivers are only permitted to claim on the continent in such cases when they can prove a certain rate of disability.
This means that, for example, minor whiplash only accounts for 3% of all France's car accident personal injury compensation demands, compared to 94% in the UK.
Lord Hunt, who is also a leading lawyer, wants his plan to apply exclusively to instances where claimants have suffered function losses of up to 15%.
Insurers should concentrate more on getting drivers better instead of giving them money which is not put towards treatment, he added.
The new laws he proposed in the House of Lords would prevent judges from paying damages if motorists accused of negligent driving paid for the victim's treatment.
Lord Hunt, who said that UK drivers don't have Europe's "weakest necks", believes that his reforms could save motorists annual insurance premiums of £32.
Copyright Press Association 2014