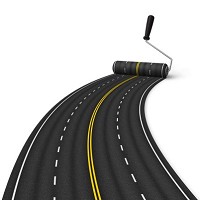 The pledged £28 billion of investment in England's roads will be guaranteed by new laws, Transport Secretary Patrick McLoughlin has announced.
The Government is introducing a legal framework on a model that already exists for the railways.
It will outline plans and performance criteria for the next five years of building and maintenance besides the next decade of project development.
Tuesday's announcement confirmed the planned legislation will guarantee theHighways Agency a six-year funding certainty for capital projects and maintenance.
The laws are set to be brought forward next year.
Mr McLoughlin also announced that the Government is promising £500 million to support the UK ultra-low emission vehicle sector.
This £28 billion roads pledge was originally made last month in an announcement which also included proposals to turn the Highways Agency into a publicly-owned company.
The scale of funding being made available for major roads will enable more investment in environmental safeguards to help settle and reduce long-running environmental problems.
These could include improve landscaping, tunnelling, "green" bridges and noise barriers to enhance roads' environmental performance.
Copyright © Press Association 2013