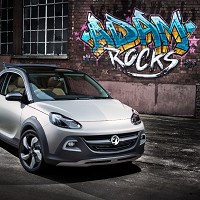 More than 100,000 car buyers across Europe ordered a Vauxhall ADAM in the first 18 months of the vehicle going on sale, the manufacturer reveals.
The ADAM entered the city car market in which style is everything and gave buyers the choice of more than a million combinations of trims and specifications to personalise their purchase.
Buyers in France, Germany, Italy, the Netherlands and the UK proved to be the ADAM's main customers, the company says.
Now Vauxhall is hoping to capitalise on the success of its ADAM with a new version, the ADAM ROCKS AIR urban mini-crossover.
The ROCKS AIR combines the original ADAM design with a tougher body and a folding canvas roof.
Like all ADAMs the ROCKS AIR will feature Vauxhall's latest 1.0-litre ECOTEC Direct Injection Turbo three-cylinder engine that produces 115PS and 170Nm of torque.
All new Vauxhall cars come with a year's free breakdown cover with the Vauxhall Assistance package.
Vauxhall chairman and managing director Tim Tozer says its customers love the ADAM because of its looks and personalisation options.
He expects the ROCKS AIR model and brand-new engine to make the ADAM even more attractive to those looking for a stylish city car.
Copyright Press Association 2014