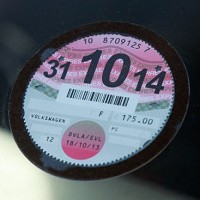 The final batch of essentially unneeded tax discs have found another use - as eBay memorabilia.
For 93 years, displaying a tax disc has been as routine for motorists as keeping their car insurance policy validated. But the familiar paper discs became obsolete earlier this month and since October 1 no longer need to be displayed in windscreens.
This is because officers now rely on the police national computer (PNC) and automatic number plate recognition (ANPR) system instead.
Now, already over 100 paper tax discs due to expire next year have been put up for auction on eBay. The Telegraph reports that 2015 versions have sold for £40, while some 1920s versions have fetched more than £150.
RAC spokesperson Simon Williams said: "It's great to see the humble tax disc holder still has a place in the heart of motorists after being a permanent fixture on our windscreens for so many years."
Tax disc memorabilia expert Tony Hill advises people to keep their discs in perfect condition if they want to sell them for a good price.
But a word of warning for motorists hoping to save car tax cash by fooling police officers into believing that their vehicle is taxed. Their PNC and ANPR systems are likely to see through any paper tax discs stuck on the windscreen.
Copyright Press Association 2014