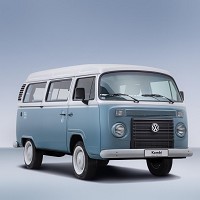 It is one of the most famous and iconic vehicles in the world and the longest-produced of all time, but the journey of the Volkswagen Kombi is finally coming to an end.
Volkswagen Brazil is making a limited edition Kombi model to mark the end of production in the country after around 56 years. First built in Brazil on September 2, 1957, the 600 Kombi Last Edition vehicles will be the final units to emerge from the factory.
The blue and white Last Edition, with its luxury finish and classic design, celebrates the best of its predecessors and each vehicle will have a numbered plaque on the dashboard. Whitewall tyres, white centred wheel caps and tinted rear windows provide even more nostalgia.
The blue continues at the front with the top grille and surrounds the headlights and also the indicators, which have white crystal lenses, while the special edition is clearly marked on the side '56 anos - Kombi Last Edition'.
Seating nine, the interior features blue fabric curtains and fasteners with the 'Kombi' logo to match the versions made in Brazil in the 60s and 70s, while the blue and white theme continues in the vinyl seats.
Copyright Press Association 2013