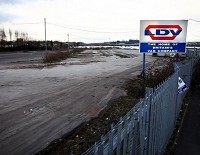 Van maker LDV has made a last attempt to secure Government funding to prevent the company collapsing and save thousands of jobs.
The Birmingham-based business is expected to go into administration next week after Malaysian firm Weststar pulled out of a takeover deal.
Bosses at LDV have warned that the collapse of the company could end all van production in the UK because of uncertainty over other companies.
As a result they are making a "final call" to the Government to avoid closure, requesting a cash injection of £60 million to refinance the firm.
In a statement the managers said: "The cost of supporting LDV is small compared with standing back and letting it fail.
"We have one final chance to secure this vital piece of industry in the UK and thousands of jobs which otherwise will be lost forever."
Production at LDV, which is owned by Russian giant GAZ, has been halted since December after a slump in demand for vans.
Copyright © Press Association 2009