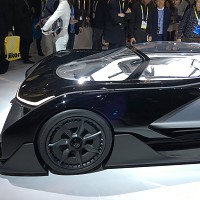 The latest driving technology is being shown off in Las Vegas this week as the Consumer Electronics Show (CES) rolls into town.
Hundreds of new automotive developments have taken centre stage at the popular event, which attracts petrolheads from far and wide.
Driverless tech is very much on the agenda, as some of the biggest names in manufacturing continue to invest heavily in self-driving vehicles.
Innovative in-car features such as displays and safety equipment have also been unveiled by their creators.
Huge multinational companies mix with much smaller, often start-up outfits at CES, with the products on show likely to pave the way for new innovations in automotive technology.
Toyota is one of the bigger names in attendance. The Japanese firm has announced a small hydrogen car called the FCV Plus, which also has the ability to provide electrical power to a home or office, and a self-driving car called the Mobility Teammate Concept.
Audi is also there with its E-tron Quattro, which remains a concept but is still an important announcement. An electric crossover is scheduled for release in 2018.
Rubbing shoulders with the giants of automotive manufacturing is a little-known start-up called Faraday Future. It has unveiled an electric concept car that is capable of hitting 200mph and has been compared to the Batmobile, although it is unlikely to ever reach production.
Copyright Press Association 2016. Motoring News articles do not reflect the RAC's views unless clearly stated.