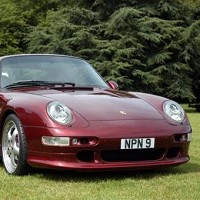 Porsche lovers from around the country will descend on Hedingham Castle next weekend for the world's largest-ever classic auction of the luxury brand.
An incredibly rare 356 Carrera, which helped forge the German firm manufacturer's reputation, is expected to be the star of the show.
Another 59 of the rarest and best Porsche machines will feature on Sunday, September 6 to mark 60 years since the first Porsche 356 was built.
The luxury sports car firm remains more popular than ever with the Macan SUV helping it sell a record number of cars last year .
Connoisseurs heading for the venue with the intention of buying a car may be tempted by various versions of that great favourite, the ever-popular Porsche 911.
One such S model from the 1970s going under the hammer is a car once owned by former factory racer "Quick" Vic Elford.
Another exciting 911 to feature is the Short Wheelbase machine once raced from new by former British hillclimb legend, the late Roy Lane. The 1966-built vehicle is expected to fetch anything from between £95,000 and £120,000.
A third distinctive 911 comes in the shape of the 3.0 SC. Dutch police used this 1982-crafted car to pursue felons.
Experts think a 2006-built Carrera GT will sell for a staggering £500,000.
Coys managing partner Chris Routledge says the line-up promises Porsches with "remarkable" backgrounds and links to many of the brand's best personalities and moments.
Copyright Press Association 2015